For my best friends birthday I decided to make her a special gift.  She recently got married in May so I thought these would be a cute newly wed gift!  I used some coasters I got from the restore in Waco.
I saw them and thought they would make nice coasters.  I like the roughness to them.  I picked 4 pictures from their wedding and changed them to black and white because I thought this would look better.  I put them into word and made them 4×4, but the coasters were a little smaller then this so I cut them down a little bit to fit the coasters.  Then I started to adhere the pictures on with mod podge.
After I let the initial layer dry for about 10 minutes I added two more layers just to make sure it wasn't going anywhere.
While reading online about making coasters I found out the mod podge also has a sealent I could use to make these water proof.  I never really knew how they made the coasters water proof but the sealent worked great!  I put about 3 layers on the front and the back of the coasters and it gave them a very smooth look!
I then put the little felt circles on the back so they would slide easy without hurting the coffee table.
Also, being the engineer that I am I had to test the coasters so I put a cold drink from Wendy's (because they have cardboard cups instead of styrofoam) on it for a couple hours to make sure the sweat from the cup would not affect them!  It worked perfectly!  I then wrapped up the coasters and sent them off to West Virginia, and here is the final product!
The costers were really easy and I love the way they look.  I will definitely have to make more of these!
Also, check out My Repurposed Life Blog!  She featured mom and I in a post!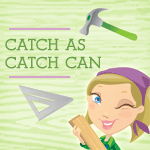 Also Linked to: